Welcome to Dr. raj skin, laser & Hair Transplant center. founded in 1998 Dr. raj skin, laser & Hair Transplant center for the past 20 years has been setting highest standards in health care while focusing on the needs of the patient. It is a complete dermatological and cosmetic centre on par with international standards. The centre is instilled with state of the art Laser machines and equipment. Our vision, to be second to none in professional skin care, impart scientific knowledge and ensure patient comfort, thereby generating countless satisfied customers in the years to come. Our invaluable experience has gained us trust and goodwill of numerous customers. our procedures and techniques such as stated below have cured patients and catered to their various beauty needs.
Hair Transplantation By FUI Technique
Long Pulse Nd YAG : Laser for Hair removal.
Q-Switch ND YAG LASER : For tattoo, skin whitening, Tonning & Black Birth mark removal.
CO2 Fractional Laser : For Acne scar, warts, Freckles removal & Laser facial.
Erbium YAG Laser : For Acne scar, Wrinkles removal & Laser facial.
Microdermabrasion & Diamond Peel : For Skin polishing & Acne scar removal
Vitiligo surgery : Melanocyte cell transplantation
Botox & Fillers : For Facial wrinkle correction, depressed cheeks, naso labial folds
Chemical peeling : TCA , Glycolic Acid, Salicylic, Jessener's , Phenol, Retinol & Diamond Peel.
Narrow Band UVB therapy for vitiligo
Radiofrequency : for mole removal & Electrolysis : For white/Black hair
Zimmer : For Skin cooling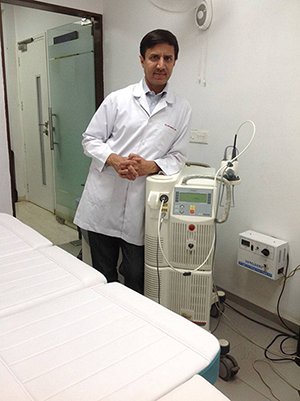 Meet Dr. Raj
Dr. Raj Raman is a M.B.B.S, M.D, Dermatologist and cosmetologist.
Dr. Raman is a qualified doctor in dealing with all dermatological disorders, dealing aesthetic problems and sexually transmitted disease, and Sexual Problems. A Member of American Academy of Dermatology. Dr Raman he regularly attends Academic sessions in all over world.
International Fellow American Academy of Dermatology & AAD Association (USA)
- Life member of Cutaneous Surgeons of India and IADVL ( New Delhi )
- Member of IADVL ( Haryana), - Member of society for Paediatric Dermatology
- Ex. Senior resident. Dr. Ram Manohar Lohia Hospital, National Institute of Immunology, New Delhi.
Dr Raman is prscticing dermatology since 1993 and has treated over 6 lacs patients